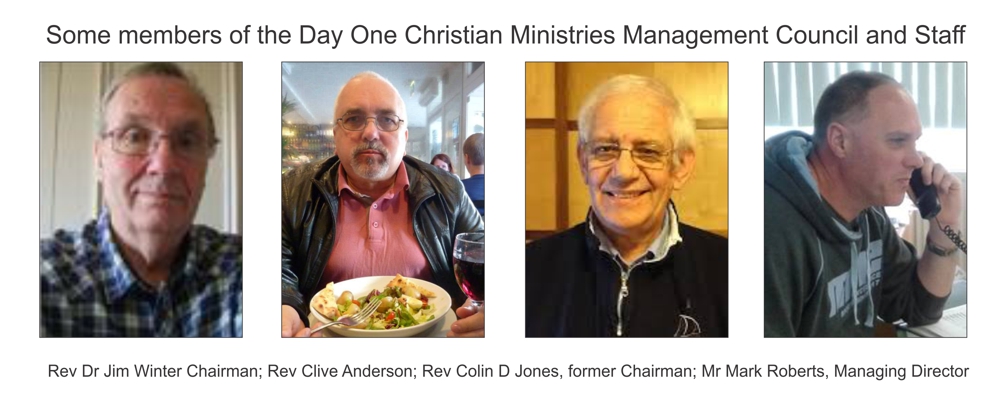 Resolving Termination of Employment of James Holmes, Day One Christian Ministries
In endeavoring to find a solution to the ongoing, unresolved matter of the termination of the services of James Holmes, links to the following documents are posted for the ease of reference of Day One Management Council (members named below) and other interested or involved parties.
Names listed below the exhibits are those of men knowingly involved in and fully informed of all matters by James Holmes and as confirmed by Dr Jim Winter. Further documents are available for perusal by interested parties, especially if it becomes apparent that the men named here are not prepared for this matter to be resolved privately as brothers in Christ should be able to.
Document A
Letter from Mark Roberts April 2016 to James Holmes on behalf of management council indicating that they do not wish to address matters HERE
Document B
Letter from Attorney Timothy Farr to attorneys of Day One Christian Ministries February 2014 outlining several key considerations for fair severance settlement of James Holmes HERE
Document C
Proposed severance contract requiring James Holmes to knowingly misrepresent the truth but which he would not sign. This was to bear the signatures of Colin D. Jones (then Chairman of Day One Christian Ministries) and Mark Roberts (Managing Director of Day One Christian Ministries) (see page 6) HERE
Day One Management Council Members (current and former) each of whom is involved in this matter
Rev. Clive Anderson, The Butts Church, Alton

Rev. Gareth Burke

Rev. Dr. Iain D. Campbell

Rev. Ian Cooper, Tollgate Evangelical Church

Rev. Steven Curry, Bethany Baptist Church, N. Ireland

Rev. Dr. Joseph Fell, Ebrington Presbyterian Church, N. Ireland

Rev. Christopher Hughes

Rev. Colin Jones (Former Chairman), Formerly of Three Bridges Evangelical Church

Rev. Howard Sayers, Hailsham Baptist Church

Rev. Paul Williams, Swindon Evangelical Church

Rev. Dr. Jim Winter (Present Chairman)

Mr. Mark Roberts (Managing Director)